Spain 2017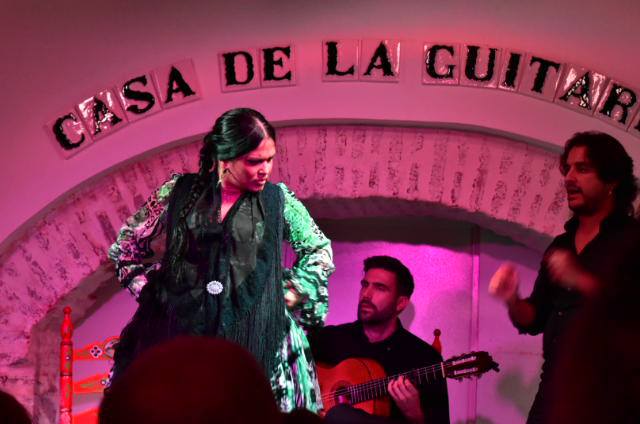 Our brief holiday in Spain during September 2017 has been more than we could have possibly hoped for. We've enjoyed learning firsthand about this country which has figured, amongst other things, in our understanding of Latin America, and the struggle against fascism in the 20th century.
Not only have we enjoyed seeing the stunning architecture, iconic works of art, some great performances and places with tremendous natural beauty, we have renewed wonderful friendships; with Soraya and Fran in Gran Canarias (Canary Islands), with Yuslemy, a Cuban friend whom we have known since 1996, along with her partner José Luís and their two lovely children, and as a complete surprise, with a Cuban trovador, Julio Hernández who Sue had interviewed for her thesis in 2001. Moreover, unexpectedy Yuslemy arranged a radio interview for us in Seville, and at the invitation of Julio, we played at Cafe Colmo in Madrid as part of an informal concert with an open microphone.
In Barcelona we saw the wonderful architecture of Gaudi, joined a tremendous Civil War walking tour led by a very passionate guide, Nick Lloyd who brought to life the struggles on the streets of Barcelona from 1936 to 1939. Later we visited the Miró Foundation, leaving with the lasting impression of his work 'The Hope of a Condemned Man'. Our visit to Barcelona was capped off by a fantastic guitar concert dedicated to Paco de Lucia, held in a ornate concert hall, the Palau de la Música Catalana, where we just happened to bump into our friend Deb McLoughlin who was also here on holiday.
In the Canary Islands we drove with Soraya and Fran across the mountainous terrain in the centre visiting the spectacular Roque Nublo, as well as some pretty seaside towns. We swam in the Atlantic Ocean, and thoroughly enjoyed the company of Soraya and Fran who looked after us very well.
In Seville we walked through the old city, spending quite a bit of time in the Museum of Flamenco Dance, attended two flamenco concerts, including one in La Casa de la Guitarra where we saw a display of guitars dating back to the early 19th century, and marvelled at the splendours of Alcázar, with its mix of Moorish and Spanish influences. We also saw a great exhibition in the Museum of Contemporary Art from a Russian art collective exploring liberation, socialism and repression in their memorable works. Again we were very well looked after, this time by Yuslemy and José Luís, with whom we had engrossing discussions about politics in Cuba and Spain.
On our first day in Madrid we went to see the powerful anti-war statement, 'Guernica' by Picasso, at the Museum of Reina Sofia, and the next day saw Goya's masterpieces 'The 2nd of May 1808' and 'The 3rd of May 1808' in the Prado, along with works by Rubens, Rembrandt, Caravaggio, de Bosca, and other European masters. We later went to El Colmo, an intimate bar nearby, and saw a range of singer-songwriters and poets perform in a concert, Musica por la Voluntad, where we also played 'The Quiet of the Winter Moon'.
It's hard to believe we've done all this and more in two weeks! Looking forward to catching up with our friends back in Brisbane. See you all soon.