35 Years Ago - Santiago de Cuba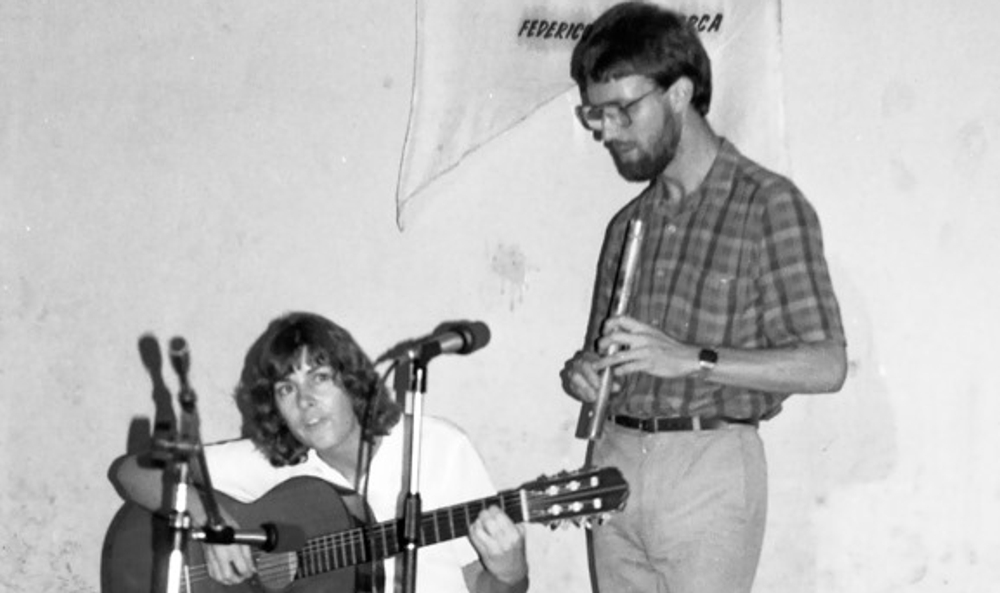 On 21st December 1985, Sue and I gave our first ever performance in Cuba. It was at a street concert organised by the organisation that coordinates solidarity from around the world with the Cuban revolution, the Cuban Institute of Friendship with the People (known across the world by its acronym, ICAP). The concert was held in Calle Heredia, in Santiago de Cuba, to celebrate the 25th anniversary of ICAP's foundation. After travelling around Latin America for a year, all we had was a guitar and a quena (Andean flute) - no bass guitar(!!) - but we managed.
We had come to Santiago at the suggestion of ICAP staff in Havana, with whom we discussed our interest in music. Through their counterparts in Santiago de Cuba, accommodation and a program of activities, was arranged, including this special concert. That night we performed alongside Nicaraguan students, Cuban trovadores and poets, and Grupo Granma, who made a strong impression on us. The following night we again sat in Calle Heredia and sang with some trovadores we had met, including Walfrido Rivas, a friend to this day. We were soon joined by another singer who was walking by, who added a great harmony line, and then another, and another, all singing perfect harmony to Sue's and my amazement. It turned out that they were members of the renowned choir, Orfeón Santiago. They invited us to hear them sing under the guiding hand of their founder, Hector Silva, in a daytime performance in the Casa de la Cultura Miguel Matamoros off Plaza Cespedes. They presented us with a long-playing record of the choir that they had all signed, and which remains in our precious collection of Cuban music.
While in Santiago we visited sites of the revolution; the Moncada, the Granjita Siboney, and the Museum of Clandestine Struggle in the old police barracks. While queuing for pizza in a non-descript local cafe, we met Ernesto, an ex-boxer who willingly took us around to see Maceo's birthplace, and the streets where Frank País fought against the Batista regime. One story Ernesto told us remains firmly in my mind. He told us that not long before he met us, he had struck up a conversation with foreign tourists who asked him, 'What was Cuba really like?'. His reply was, 'Go and ask Fidel, because you're not going to hear anything different from me.' It turned out that he had returned from his boxing career in the US to fight in the Sierra Maestra. Twenty odd years later we met him in a city living and breathing a revolution. Over those few days in Santiago we learnt about Cuba in a way that pamphlets, newspapers and history books (as important as they are) could never teach us.
This, our first trip to Cuba, came at the end of a year travelling throughout Latin America. It was a turbulent time, we saw first hand the repressive Pinochet regime in Chile, the effervescent crowds of people throwing of the military dictatorship in Uruguay, the hundreds of thousands in Argentina calling for justice after the fall of the junta. Our travels in Paraguay, Bolivia, Peru and Brazil opened our eyes to the harsh conditions that millions of people endure under regimes that have as their central purpose to exploit the wealth for the benefit of a very small elite. We saw the cost being paid by the Nicaraguan people for standing up for themselves, enduring a terrible civil war financed by the United States, determined to bring the Sandanistas to their knees.
Arriving in Cuba, we didn't really know what to expect. Within a very short time it felt very different from what we had experienced elsewhere during that epic journey. The people were confident (very confident) secure in themselves, open, occasionally to the point of being brash. It contrasted with the reticence that we had encountered elsewhere, in countries where repression, torture and arbitrary arrest were the order of the day. We enjoyed recent movies screening in the Latin American Cinema festival being held at the time. We saw concerts in wonderful heritage buildings, (including the legendary Emiliano Salvador playing in Bellas Artes, and Marta Campos, a trovador who became a friend on a later visit to Cuba, playing in the Museum of Music); we learnt to queue by calling 'ultimo!' and experienced the taste of Cuban pizza; we danced New Years Eve with friends in Havana, and spent time with the Australian Brigade at the Julio Mella International Camp at Caimito, just outside Havana, visiting a citrus processing plant. We saw the terrible impact of the US blockade, and the determination of people to forge their own future. In short we learnt to see special moments of the Revolution in the everyday lives of Cuban people.
The experience of the incredible creativity and musicianship profoundly affected us. We wanted to emulate what we had seen and heard, but how. At that time, even though we had been performing in the group 'Frontera' for several years, we were struck by a realisation that back in Australia we could only hope to be a shadow, a reflection of this wonderful musical movement if we were to confine ourselves to a Latin American repertoire. Moreover the situation seemed to demand that if we were to stand alongside these musicians we had to find our own voice, and have our own songs to talk about life in Australia. And so a few months later we made a decision to develop skills that could help us find our way. Soon we were studying music, composition and singing, acquiring skills which laid the foundation for our original work in Jumping Fences, born out of our love of Latin American, and particularly Cuban music.
Now, on this 60th anniversary of the foundation of ICAP, we remember with gratitude the hand of friendship that was offered us, which left an indelible impression. We learnt about solidarity in a very direct, human way. We came to understand the Cuban revolution through the relationships forged during this and subsequent visits to Cuba. Not in the abstract, nor the ideal, but in the real lives of real people, struggling. And thirty-five years later, we are proud to stand with the Cuban people and their revolution, which remains a beacon for us and thousands of others like us who believe real change and a better world is possible. The future is ours, we have to make it so.