I Never Sing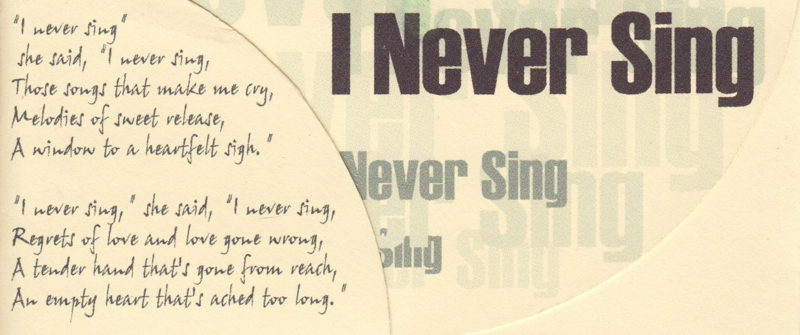 Our song 'I Never Sing' is based on the moving courtroom testimony of a young woman
We recorded I Never Sing with Simon Monsour in his home studio in 2006. Michal Postula plays the violin.
Listen to the song
You can hear the song online at our Bandcamp site and read the lyrics
Press Release
click here to download [pdf 45 KB]
'Sandra's Story'
One lunch time 'Sandra' met up with some friends in the local suburban shopping centre. There was a bloke hanging around who was eventually introduced to her as 'Sam'. After talking for a while he offered to take them to the coast after work. Later in the afternoon he went around to Sandra's place where she and her friends sat in a car and smoked a few cones, before heading off to the coast. They picked up some beer and spirits on the way and as night fell they called into the main commercial area, where Sandra started talking to Sam. From there the group drove to one of the beaches. They sat and drank, and went for a walk along the beach. Sam and Sandra headed off into the dunes on their own. They returned to the group a little while later, Sandra was quite sullen. They headed back to Brisbane and called into a service station. There Sandra broke down, crying, and her friends tried to console her. What happened? they asked. There Sandra revealed that Sam had sexually assaulted her.

The next day Sandra ran away from home. By chance, a relative saw her wandering the streets in a distant suburb a few days later. The relative took Sandra to the police, and she filed charges against Sam. Sam was arrested and charged. When Sam's wife found out, she was furious and went around to where Sandra was staying, threatening her, and dragged her to the police station, demanding that she drop the charges. But Sandra held firm, and eventually the case went to court.

During the trial Sandra told her story of the rape in frightening detail. After her moving testimony Sam's barrister commenced his cross-examination. He went through all the details of the assault challenging her at every step, as though she was on trial. Sandra remained consistent throughout this harrowing ordeal. Nevertheless, several hours later, Sam's barrister put it to her that nothing had happened, and that Sandra was singing all the way home in the car. 'That's not true,' Sandra replied, 'I never sing'.
Awards
'I Never Sing' won 4th place in the open category of the 2006 Australian Songwriters Association's national songwriting contest.