The Shore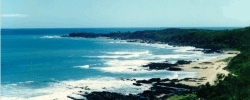 Between January and March 2000 we wrote The Shore, a new choral work for unaccompanied mixed choir, commissioned by The Australian Voices.
It premiered at the Australian Voices Festival in May 2000, and recorded on their album, 'Sea Children and other new Australian choral music', released later that year.
The work consists of three parts; 'Sunlight', 'Waves' and 'Shadows'. In it we wanted to capture some of the significance of the Australian coast, a place of great pleasure, but also the border with a contested right of entry.