Jumping Fences in Cuba 2018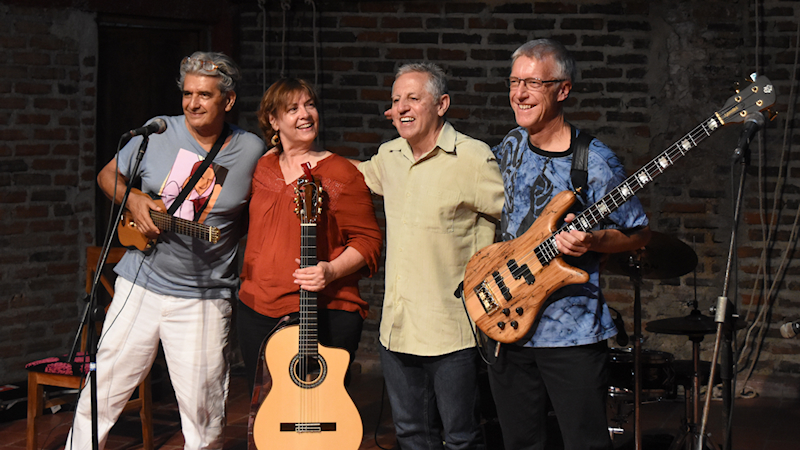 In June 2018 Jumping Fences returned to Cuba as invited guests of the 'Ella y Yo' Festival.
it was our eighth trip to Cuba and further consolidated relationships that we have built over many years. It was wonderful to catch up with friends, see the recent developments in music, particularly the Trova, and have an opportunity to share our music with receptive audiences.
Accompanying us were Dan Simpson (drums) and, as Ross couldn't make it, our old friend, Justo Diaz (guitar, charango and quena) filled in. Dan's wife, Cheryl Simpson came as well and gave great support and helped a lot with the photography.
In Havana we stayed in the same house we had rented in 2017, and we were made to feel very welcome by Barby and her family. It's a great location in Vedado, close to many of the places we wanted to visit, and had a outdoor area for rehearsals.
After a couple of days of settling in, we started our tour with with a trip to Santa Clara Our guide from the Institute of Music was very attentive and organised for us to attend a rehearsal by a women's choir, their singing was very impressive. Later we crossed town and made our way upstairs to to top floor of an appartment block to sit in on a rehearsal by a group that specialised in early Cuban music. It was also a very memorable experience.
Our own concert was scheduled for Mejunje. We had been struck by its unique atmosphere on previous visits to Cuba and were very glad to be able to play there again. For our concert, we had invited guest musicians from the group Trovuntivitis share the stage with us, including Leonardo García, Yordan Romero, Alain Garrido, and Michel Portela. We had enjoyed Trovuntivitis immensely on our last visit in 2017 and were very happy that they could be part of our concert. We were very pleased with how the concert went, a good audience, and felt our performance went well.
We returned to Havana just in time for the 'Ella y Yo' Festival, a celebration of women trovadores, organised by Heidi Igualada and Marta Campos. It was a wonderful experience, meeting musicians from across Cuba, and the other international guest, Maravi Vargas from Paraguay. We played at the opening concert in Bellas Artes, sharing the occasion with a fantastic array of musicians from across Cuba. We certainly enjoyed other concerts at Casa de las Americas and Casa de ALBA. We played at the closing concert as well at 'La Gardin de Gorda', the venue established by Sara González (who sadly is no longer with us). It was a real honour and we met Sara's widow, the wonderful Cuban visual artist, Diana Balboa, making the festival a very memorable experience for us.
We gave interviews, recorded at a radio station in Havana, and soaked up as much music as we could, as well as catching up with friends and our compañeras from the solidarity movement. It was great to have time with Gretchen, a translator who is great fun to be with, as well as hearing her views on Cuba. We caught up with Pedro Monzón, a former Cuban ambassador to Australia, with Mery, Merita and Adanelio, journalists we first met in 2001, and Vilma, Filiberto and Filiberto junior, the family of Alexis Mendez, a trovador now living in Denmark. To cap it off we bumped into Silvio Tarin, Sue's first guitar teacher in Cuba (from 1996) and we went to a concert in the National Theatre where he was performing as part of a festival of boleros. We couldn't believe our luck as one of Cuba's legendary groups, Orquesta Aragon finished the night.
In the midst of all this we played at a concert in the Patio at Egrem Studios (where the Buena Vista Social Club was recorded), and at a peña of Juan Carlos Pérez held in a bookshop near the University, and saw performances by Eric Mendez, Frank Delgado, and our friends Silvio Alejandro, and Ariel Díaz.
Our tour closed with a concert at the Sala White Theatre in Matanzas (several hours drive from Havana), with our guest, Ariel Díaz, a trovador who we had first met in 1996 joining us. The concert was on our last night in Cuba, and we drove directly to the airport in Havana the next day exhausted and exhilerated at the same time.
We spent a few days in Mexico, arriving on the night of the electoral victory of the new president, Andrés Manuel López Obrador, swept up in the euphoria, as our hotel was right next to the Zocalo, Mexico's central plaza, filled with thousands of people. It was also great to catch up in Coyoacan with our friend Raul Toache, a classical guitarist who we first met in 2008.
The whole experience reinforced our strong ties with the Cuban trova, it is inspirational to see first-hand this incredibly productive group of Cuban singer/songwriters.
Thanks as always to the Cuban Institute of Music, to Heidi and Marta, and all our Cuban friends who made this trip another wonderful event in our lives.