Cuba 1996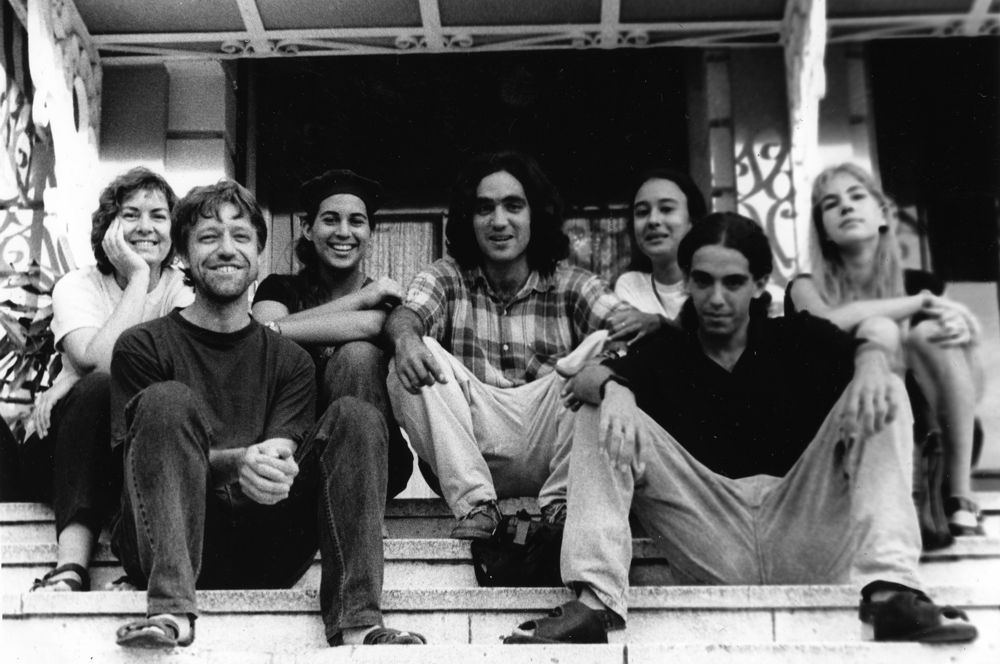 Our second trip to Cuba was from August to October 1996 where we had a fantastic time, learning, playing, meeting musicians.
We had music lessons were with twin brothers, Silvio and Vidal Tarín from the National School of Popular Culture.
One of the highlights was meeting a group of young musicians who belong to a new wave of the Nueva Trova. We exchanged musical ideas with them, and played at their concerts including the Peña de Raul Torres in the Karl Marx Theatre and a concert given in the Casa de las Americas by Ariel Díaz.
On returning to Brisbane we presented a show about our Cuban trip, at the Open Space, on August 28th 1997. The performance included the following diary extracts.
Friday 23rd August, 1996
At night we went to the Karl Marx theatre, to see one of the new trovadors, Raul Torres. It was his peña, an intimate concert, and he had invited about 10 other musician friends to play throughout the evening. It was fabulous. They were all singer/songwriters and between them displayed an exciting and diverse range of guitar styles. Raul told the audience 'it's not easy these days to bring so many people together with just a guitar'. The emphasis was on original material. People listened intently or sang along — Raul's recently released CD with Pablo Milanés was getting a lot of air play. One of the most well known of his songs was Candil de Nieve. We loved it the moment we heard it; it was frustrating not to be able to sing along with everyone else. We'll have to learn it.
Thursday 29th August 1996
Today we played at Alberto Faya's peña. We went to Old Havana and found the old Spanish palace where the concert was to be held. The room was magnificent with large louvred doors opening out onto a balcony overlooking the main plaza. A relaxed and informal start to the afternoon gave us a chance to meet some new musicians. We had the opportunity to find out their interest and skills as everyone listened intently to each other's performances. We were particularly struck by Alberto and Mary's version of an Argentinean song by Fito Páez called Yo Vengo a Ofrecer Mi Corazon.
Friday 30th August 1996
We saw Sara González in an open air concert organised by the Nicolas Guillen Foundation, an organisation dedicated to Cuba's national poet. We are beginning to recognise a lot of people in the audience, young trovadores who we had met or seen playing at other concerts and peas we have been to. Sara herself made space for these young trovadors with Raul Torres as her guest for this concert. It was great to see her, one of our favourite singers from the beginning of the Nueva Trova and to see that she is still playing and touring extensively. Today she performed with her new group Guaicán and did an exciting version of Cancion.
Thursday 5th September, 1996
In the morning we went to a press conference for the launch of a series of Nueva Trova concerts. Alberto Faya talked about the history of the Nueva Trova and how we were in the venue where Silvio Rodríguez and Pablo Milanés had played in the early days of their musical careers. He defined the trovador as a singer/songwriter whose songs deal with the present honestly. After the media had asked their questions and recorded the discussion they left and the focus of the meeting turned into yet another peña. A guitar was passed around and everyone present took turns to play a song. There was a visiting folkloric group from Chile who also performed. We met a musician called Ariel Díaz who played a song called Ciudad de las Antenas Parabolicas.
Wednesday 25th September, 1996
We decided to go to the Tro-Bar at the National Theatre to see Frank Gonzalez play. We have been seeing a lot of him lately. He is a fantastic guitarist, with a unique approach to songwriting, and strongly influenced by Brazilian styles. We arrived about 10.30 p.m. but the music hadn't started. The main group was Mezcla, which was formed by Pablo Menéndez who was from the very early days of the Nueva Trova. He had a great band and they did a real variety of material. Frank played a set during the night, including one of new favourites, Distancia y Latido.
Sunday October 13th 1996
We went down to the Casa de la Trova, one of the most well-known venues in Santiago de Cuba. René Urquijo, one of Santiago's trovadores had asked us to play there, he too was going to be playing. It was packed with a local crowd. The response to our performance was fantastic. To top it off, just as Sue stood up to leave the stage, the MC stopped her, and gave a short speech of thanks to the Australian trovadores. We felt like we were in heaven. It was this performance which cemented our links with the Cuban trovadores, and reminded us of why we had written A Crack in the Wall, a song written especially for Cuba.