Cuba 2001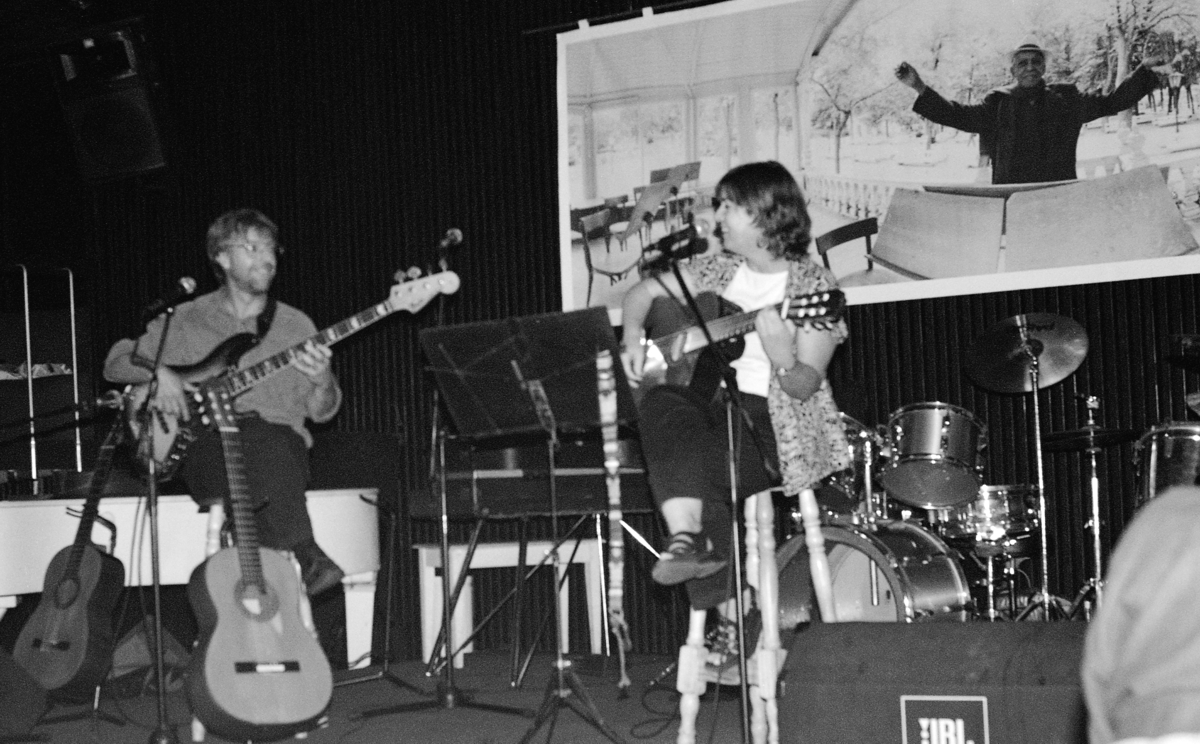 Again we had a very rewarding trip, studying, performing, renewing friendships and learning more about daily life in Cuba. Here are a few of the highlights.
Sketches from Cuba
I.
Soon after arriving in Cuba one late January afternoon, we found ourselves sitting with other musicians at one end of the balcony of the stately old building on the corner of H and 17 streets in Vedado, which houses UNEAC, the National Union of Cuban Artists and Writers. The central section serves as a stage, overlooking the lush tropical garden in which are seated a good-sized crowd who had come to the regular Trova Sin Traba concert. We heard the astounding guitar work of 'Mister Acordes', and the beautiful songs of Juan Carlos Perez before taking the stage.
After playing some of our own songs, we were about to launch into one of our favourite Cuban songs, 'La Guitarra', when the MC came onto the stage to announce the arrival of Sara Gonzalez, one of the great singers of the Cuban Nueva Trova. Sue seized the moment, explaining that we first heard 'La Guitarra' when Sara had toured Australia in 1982 and that her performance had inspired us to learn this song. A few bars into the song, much to our surprise and elation, she came onto the stage to join Sue at the microphone. At the end, amid embraces and a few tears, the crowd gave a truly wonderful reception. While we floated back to our seats the stage was taken by Alexis Méndez, one of our close musical friends in Havana, who gave a great rendition of his song 'Promesas' composed in a traditional musical style but with a sharp contemporary edge. The concert was capped off by Cuba's great tres player, Pancho Amat and his group, with vocal improvisation between his singer and Sara.
II.
Later that evening we walked down to the restored Amadeo Roldán theatre, with the streets packed with people waiting to hear the pianist Chucho Valdés, who leads Irakere, one of Cuba's major Latin Jazz ensembles. Tonight he was playing with a quartet and his performance was full of the drive and virtuosity for which he is renowned, with his sister making a cameo appearance giving a fantastic rendition of Drume Negrita; it was a special event by great musicians in front of their home crowd.
III.
On the streets of Havana, there are an incredible number of people walking with musical instruments, there are a lot of gigs in this town. Amidst this swirl of life, we head with some friends to one of the restored buildings of Old Havana, the Pablo de la Torriente Brau Cultural Centre, home to the new generation of trovadores (singer-songwriters). The concerts here reveal a side of Cuban musical life that is young, dynamic, and contentious. But there are many facets to Cuban music, and right after seeing a trio called Enserie, we rushed down a few blocks to the old cathedral to see a concert by the choir Exaudi, who had been in Australia a few years ago.
IV.
Further afield in the suburban areas Havana has its ordinary side as well, but even here the musicality of the city comes through, in the local music school the strains of a piano piece drift out, while a young girl works through a particularly virtuosic piece. And down the road at a small museum a final year student gives his graduation guitar recital, playing pieces by Spanish classical guitarists as well as Latin American composers. At the end the boy is given a standing ovation, his father breaks down, still grieving the loss of the boy's mother just a few months previously. This moving scene completes a circle for us, a few weeks ago we had come here to La Vibora in search of a guitar teacher for Sue; now she had invited us back to hear this concert by another of her students. After, we queue for the bus again, but end up catching a ten-peso taxi, crowding into the old Chevrolet for a ride back to Vedado. There we head down to UNEAC for another peña, this time dedicated to International Women's Day and we see Marta Campos and Heidi Igualida play, we revel in the warmth of their spirited performances. Home again, and practice, we're anxiously trying to meet our teachers' expectations, it's a rare opportunity for us to have these lessons, and we don't want to waste time
V.
David arrives for my bass lesson the next morning. I'm relieved to hear him comment on my progress. Sue heads off for her lesson down Linea through Vedado to Central Havana. Barima lives at the back of Capitolio, in an old apartment block, inside reveals remarkable architecture, her lounge room in the apartment is dedicated to music. It belonged to her uncle who was a physicist, piled up high against one corner are Russian texts that were rescued from a clean out at the Science library, on the wall is a poster for a concert Barima gave. Her lessons are packed with information, she loves the subject material, playing examples of songs using those dissonant chords often called jazz, but are prevalent in Cuban Trova songs, a different style. And soon Sue fills her notebook with substitutions and cadences, chord sequences and analyses of Cuban songs that are enough to keep her head spinning for a year.
VI.
Late one night at El Gato Tuerto nightclub, César Portillo de la Luz was playing solo. With his unique style, left hand moving all over the guitar neck in the most beautiful harmonic progressions and right hand using only the thumb to give occasional emphasis, he sang his songs with such warmth and expression you'd think he'd only just written them. The songs sounded quite familiar. As a pioneer of the filin (feeling) movement back in the 1940s his songs had become well known around the world. At 81 he was still packing the house.
VII.
The next day we catch up with Alexis, an art teacher in Guanabacoa, but who lives for music and being able to perform his songs. His life style is bohemian even by Cuban standards, we talk and talk like there's no tomorrow, discussing the relation of the new singers to the older generation of the Trova, how they fit into the Revolution, the tension that exists at times, the place of salsa in Cuban music, the effects of tourism, the latest trends. There are no holds barred in our discussions, we explore every aspect of Cuban musical life that we possibly can and we end the day with this wonderful sense that music counts, that people take it seriously and find meaning in their lives through music, its not simply recreational, it tells people who they are and how they fit into the world. At the end of our stay we feel that, with all its contradictions, the Revolution has released creative forces that give us reason to believe that music is a worthwhile pursuit, and will serve as a reference point for the rest of our lives