Cuba 2008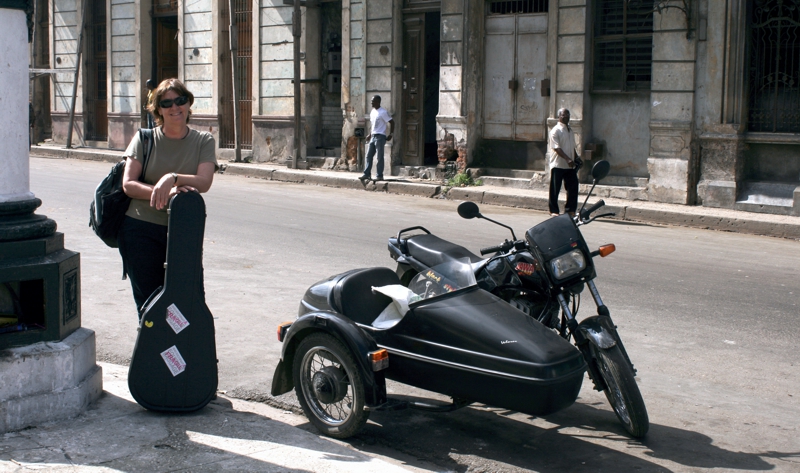 We travelled to Mexico in December 2007 and went on to Cuba celebrating New Year's Eve in Havana and spending most of January there.
While in Mexico we visited new places, caught up with our Cuban trovador friend Frank Gonzalez, discovered more about the history of Mexico through the wonderful artworks and met new people who quickly became friends.
In Cuba, we gained a new set of first-hand experiences to build on our knowledge of Cuba — its people, music and the trajectory of the Cuban Revolution. We spent lots of time renewing friendships, sharing some wonderful days and nights with friends and their families, saw the electoral process, and visited Santa Clara for the trova Festival Longina. While we were there we visited the 'Tren Blindado' and the monument to Che, both very moving experiences.
Mexico
We flew to Hermosillo in the north, to visit Frank Gonzalez, a Cuban trovador now living in Mexico with his Mexican wife. We visited local venues, playing together a few times, began writing a song together, and visited the local sights.
We travelled over the Sierra Tarahumara, staying at Creel, then on to Chihuahua, Zacatecas and Guadalajara, before arriving in Mexico City. In these cities we learnt about Mexican history through marvellous murals and museums, sought out music in local venues, and met musicians and writers who welcomed us with welcoming hospitality. En route back from Cuba we visited Mérida and the fantastic ruins of Chichén Itzá before returning home.
Cuba
Trova
We renewed our friendships with many trovadors who continue to inspire us with their drive to reflect on Cuban reality through beautiful songs which blend lovely melodies with rhythm and lyrical punch along with some great guitar work. Juan Carlos Pérez, Heidi Igualada, Erik Sánchez, Ariel Díaz.
We experienced a truly inspirational concert in honour of Barbara Dane on her 80th birthday. Apart from Barbara, who still has great voice and presence, the concert included performances by her son Pablo Menéndez, Frank Delgado, Alberto Faya with Mary Córdoba, David Faya and Pablo Faya, Inti Santana and others. Barbara Dane progressive jazz singer who formed Paredon Records which brought Cuban trova to audiences outside Cuba.
One important mission was to visit the trovadors who Sue had interviewed for her doctoral thesis, and give them copies of the completed work. We also visited the Pablo de la Torriente Brau Cultural Centre where we gave a copy of the thesis to the centre's director, Victor Casaus. We finally visited the Casa de las Americas to investigate publishing articles from the thesis as well.
While in Havana we had the chance to attend the thesis defence of Mary Córdoba, who had written her dissertation on the approach of ethnomusicology, developing a critique of 'western' ethnomusicology.
Places
Havana continues to fascinate us. The renewal program in Old Havana has restored some lovely buildings, while other more dilapidated parts will challenge architects, engineers and builders for many years to come. We spent considerable time walking the streets of Old Havana, Central Havana, Vedado and Miramar, as well as visiting Guanabacoa, Habana del Este, Regla and Playa.
Further afield we visited Santa Clara, to see what we could of the Festival de Longina. We walked the city visiting El Tren Blindado - a memorial to the decisive battle of the Cuban Revolution, and the monument to Che Guevara, where we met Argentinian's dirinking maté, and spent time reflecting on the life of this great revolutionary. In the evening we went to a concert in the foyer of Teatro de La Caridad, and at night 'El Menjunje' for a spectacular gathering of trovadors.
People
Our visit to Cuba was dramatically enriched by meeting old friends, some who we have known for over 20 years. It was great to visit Guillermo Valdés who had visited Brisbane in 1984; to catch up with Adanelio who we met in 1996 while he was researching a book on the myth of the Unicorn, along with Maria de los Angeles and her daughter Merita – they all treated us wonderfully; Barima Gort, Sue's guitar teacher whose love and knowledge of the instrument is truly marvellous; Gabriel Lahens and his family whose hospitality was tremendous. We met the family of Cuban friends living in Australia the families of Manuel and Miriam, who received us with open arms; by chance caught up with Silvio Tarin another of our teachers, whose nephew Rainer entertained us with stories of touring with Cuban shows. One new friends included Adrian, a young journalist whose love of the trova matched our own.
Politics
On January 20 Cuban people went to the polls to elect new members for the Peoples Power Congress. In this historic election, Fidel did not stand for the presidency, formalising the hand-over to Raúl. We visited a local polling station in Central Havana, where we were welcomed by the officials and children overseeing the voting.
In spite of the propaganda of the west, most of the Cuban people we met freely expressed their views on the political process in Cuba. It is worth seeing firsthand, as it doesn't match any stereotypes of socialism. Its a living breathing process that's full of contradictions, but earns our support in this world of extreme inequality and injustice.
Performing
Even at short notice we managed several performances, at Huron Azul at UNEAC (the National Union of Cuban Writers and Artists), Pabellon Cuba, and the Peña of Inti Santana at Fresa y Chocolate. We received an appreciative audience response on each occasion, and invitations to return. I guess we will just have to accept them and start planning our next trip.