Composing for Choirs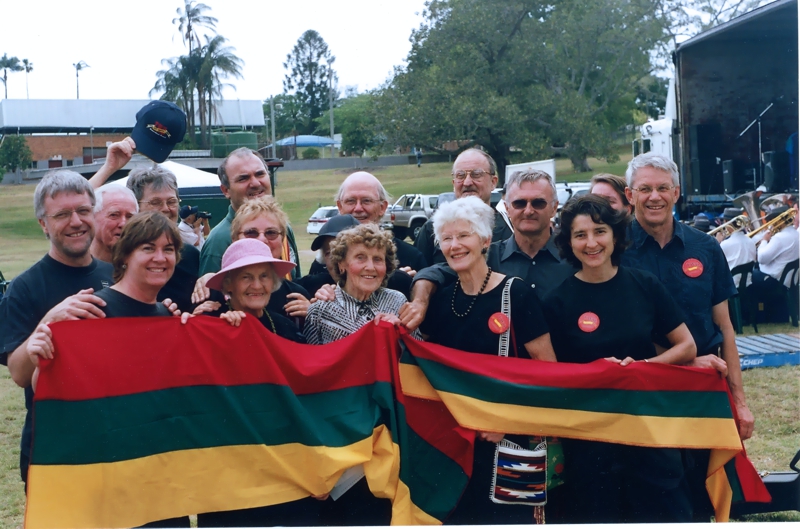 Our choral works have been performed locally and internationally, with our piece The Shore being performed in Europe, the United States, Canada and Latin America. We were very pleased to be contacted by the conductor of the Berlin-based choir, Northern Spirit who were (prior to the COVID-19 pandemic) planning on performing The Shore in 2020.
During 2006, two of Brisbane's comunity choirs released recordings of our works. Brisbane's Lesbian and Gay Pride Choir recorded 'Stolen Land', and the Combined Unions Choir recorded 'Roads We Tread' and 'It's So Simple'. The latter two works were commissioned for their show the Fair Play Cabaret. These recordings are part of a extensive association with some of Brisbane's choirs.
In 1998 we were commissioned by the conductor of Canto Coro, Mark Dunbar, to write Three Songs for a City, our homage to our home city of Brisbane, and the people who struggle to make their homes there in spite of the contradictions they face. Two of the songs are our own text, the other is from the Uruguayan poet, Mario Benedetti.
In 1999 we wrote Exilio, another work for Canto Coro, dealing with refugees and exiles seeking to make a home in Australia, a country which has its own history of war against its Indigenous people. We set music to poems by two Latin Americans living in Australia, Suchil Tunali and Ramón Cuelho, and linked them with a verse of our own.
Following the success of Exilio, we were commissioned by The Australian Voices, conducted by Stephen Leek, to write a piece. The result was The Shore, a trilogy which explores Australians' relationship with the coast. It was premiered in May 2000 at The Australian Voices Festival and released on their recording Sea Children.
After returning from Cuba in 2001 we arranged 'On the Chain', one of our workplace songs, for the Brisbane Combined Unions' Choir. It was performed at the Woodford Folk Festival as part of a gathering of Union Choirs from over the country. We also arranged and performed, along with Canto Coro and choirs from Ferny Grove State High School and Milperra School, the song 'Stand with Us' by Brian Procopis for a concert supporting young refugees at the Brisbane Powerhouse in October 2001.
Since 2001 we have arranged a number of songs for community choirs, including songs the anthem Celebrate the Strength composed for the Centenary of the Transport Workers Union in 2007 and performed by Brisbane's Combined Unions' Choir.
In 2011, the Kansas City-based Tallgrass Chamber Choir, conducted by Jacob Narverud performed and recorded 'Sunlight', the first piece from The Shore.
Our works are available for other choirs to sing. Please This email address is being protected from spambots. You need JavaScript enabled to view it. if you are interested.
We have found the experience of composing for these choirs to be very rewarding and allowed us to explore new artistic possibilities. We invite you to read the other stories where you can find more details about some of the works.